As a busy individual managing work, family, and everything in between, I often struggle to come up with quick and easy meal ideas while grocery shopping. But no need to worry! I have a collection of effortless recipes that will make your life a whole lot easier.
These meal ideas are perfect for those seeking culinary inspiration without the hassle. Let's make grocery shopping a breeze by exploring simple breakfast options and one-pot wonders for busy days.
With these recipes, you'll have delicious meals on the table in no time.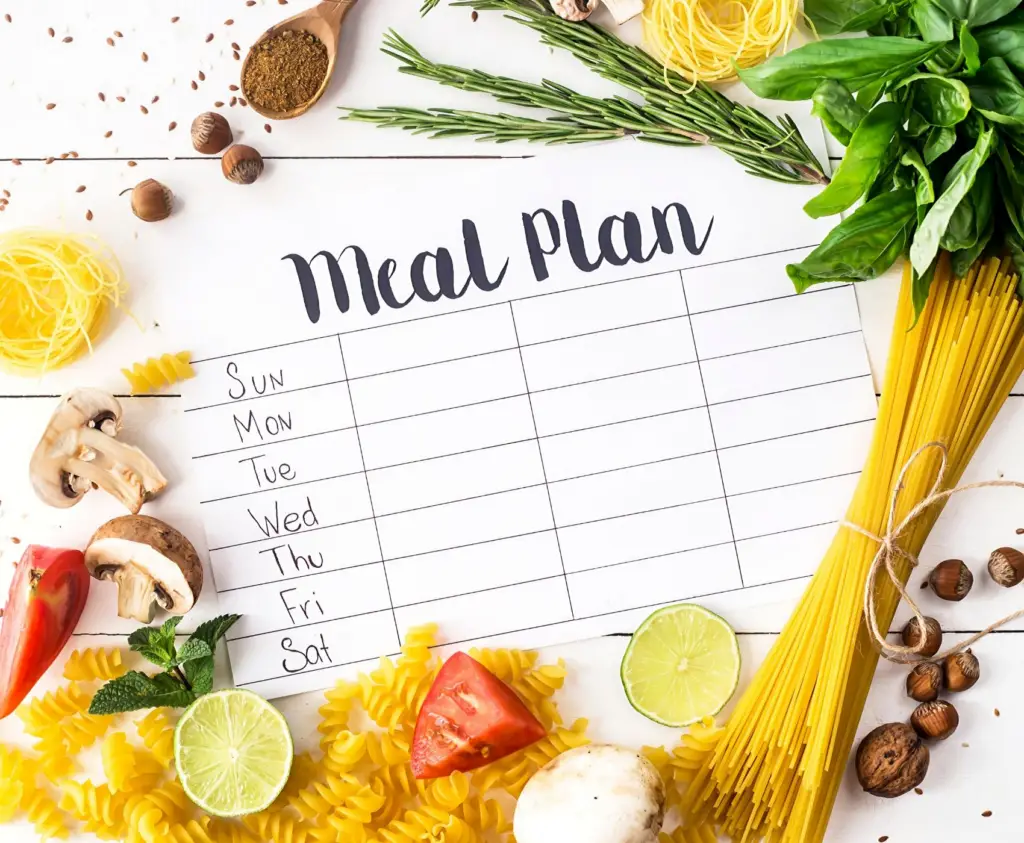 Quick and Easy Breakfast Options
When it comes to quick and easy breakfast options, one of my favorites is a simple bowl of cereal with fresh fruit. It's a straightforward choice that provides a satisfying start to the day. But if I'm in the mood for something different, I have a few other effortless go-to options.
One option is quick and easy smoothies. These nutrient-packed breakfast drinks can be customized to suit your taste and provide a refreshing and energizing start to the day.
Another great choice is breakfast burritos. You can prepare them in advance and simply heat them up in the morning for a convenient and delicious meal.
If you prefer something that you can prepare the night before, overnight oats are a fantastic choice. These oats can be prepared ahead of time and left to soak overnight, resulting in a delicious and nutritious breakfast waiting for you in the morning.
Protein pancakes are another quick and easy option that provides a satisfying and energizing start to the day.
And let's not forget the simplicity and deliciousness of avocado toast. It's a classic breakfast option that never fails to satisfy.
With these breakfast choices, you can start your day off right without sacrificing taste or convenience.
Simple Lunch Ideas
For lunch, I like to keep things simple and effortless. One of my go-to options is sandwiches. Whether it's a classic turkey and cheese or a veggie-packed sub, sandwiches are a satisfying and convenient choice.
If I'm looking for something lighter, I opt for easy salads. I toss together fresh greens, veggies, and a protein like grilled chicken or chickpeas for a nutritious and filling meal.
Another favorite of mine is simple wraps. I fill them with deli meats, veggies, and spreads for a tasty combination.
And on those days when I crave warmth and comfort, I turn to no-fuss soups. They heat up quickly and provide a flavorful bowl of goodness.
Of course, I can't resist a plate of effortless pasta. With just a few ingredients and minimal cooking time, I can whip up a delicious pasta dish in no time.
Lunch doesn't have to be complicated. These simple meal ideas make it easy to enjoy a satisfying midday meal without any hassle.
Effortless Weeknight Dinners
When it comes to weeknight dinners, simplicity is important. After a long day, spending hours in the kitchen is the last thing anyone wants. That's why quick weeknight meals that can be made in 30 minutes or less are a lifesaver. Easy dinner recipes make it possible to enjoy a delicious meal without the hassle.
From stir-fries to one-pot wonders, there are plenty of simple dinner ideas that are both fast and tasty. Whether it's a hearty pasta dish or a flavorful chicken stir-fry, these quick and delicious dinners never disappoint.
With just a few staple ingredients and a bit of creativity, it's possible to create a satisfying meal that brings the whole family together at the dinner table.
One-Pot Meals for Busy Days
One-pot meals are a blessing on busy days, especially when you have a packed schedule. After a tiring day, the last thing you want is to spend hours in the kitchen preparing a meal. That's where quick pasta dishes, hearty soups, one-pot stews, skillet dinners, and easy casseroles come to the rescue.
These meals not only save you time but also minimize the cleanup. With just one pot or skillet, you can whip up a delicious and satisfying meal in no time. Whether it's a comforting bowl of pasta, a warm and filling soup, or a flavorful stew, one-pot meals are the perfect solution for your busy days.
They not only provide nourishment but also offer a sense of comfort and togetherness as you gather around the table with your loved ones to enjoy a simple and delicious meal.
Healthy Snacks on the Go
When I'm busy, I like to incorporate healthy snacking into my day with convenient options that provide nourishment on the go. I prefer snacks that are portable and easy to grab, no matter where I am.
My go-to choices for healthy snacks are fruits, vegetables, and nuts. Not only are they packed with vitamins and minerals, but they also give me an energy boost to keep me going throughout the day.
If I need a quick pick-me-up, protein bars and yogurt cups are also great options. These snacks not only satisfy my cravings but also keep me feeling satisfied until my next meal.
Having these healthy snacks on hand helps me stay nourished and focused when I'm on the move.
No-Bake Desserts for Sweet Treats
When it comes to satisfying my sweet tooth without spending too much time in the kitchen, I love exploring the world of no-bake desserts. These treats aren't only easy to make but also incredibly delicious.
One of my go-to recipes is the no-bake cheesecake. It's a creamy and rich dessert that requires minimal effort.
Another favorite of mine is frozen treats like homemade ice cream or fruity popsicles. They're perfect for cooling down on a hot summer day.
If I'm in the mood for something bite-sized, easy truffles are the way to go. With just a few ingredients, they can be whipped up in no time.
And let's not forget about the simplicity of no-bake cookies and fruit desserts. They're quick, tasty, and a great way to use up any leftover ingredients.
These no-bake desserts aren't only delicious but also a great way to indulge without spending hours in the kitchen. So why not give them a try and treat yourself to a sweet and hassle-free dessert experience?
30-Minute Meals for Busy Professionals
As a busy professional, I often rely on quick and easy meals to keep me fueled throughout the day. When I come home after a long day, I need dinner ideas that aren't only quick but also delicious and nutritious.
Here are some time-saving recipes that have become my go-to options:
20 Minute Meals: Whip up a tasty stir-fry by sautéing your favorite vegetables with some protein and a flavorful sauce. It's a quick and healthy alternative to fast food.
Easy Meal Prep: Prepare grilled chicken or roasted vegetables in advance to have on hand throughout the week. Pair them with quinoa or brown rice for a complete meal.
Quick Dinner Ideas: Create a hearty salad with mixed greens, grilled shrimp, cherry tomatoes, and avocado. Drizzle a light vinaigrette over it for a refreshing and satisfying option.
These easy-to-make meals not only save me time but also help me maintain a healthy lifestyle. They're perfect for busy professionals like myself who prioritize their health and time.
Budget-Friendly Meal Ideas
Are you looking for ways to save money while still enjoying delicious meals?
Creating budget-friendly meals without compromising on taste or nutrition is easier than you think. By planning ahead and being a little creative, you can whip up affordable dinner recipes that will satisfy your taste buds and keep your wallet happy.
The key here is to start with affordable meal planning. Take inventory of the ingredients you already have in your pantry and build your meals around them. This will help you avoid unnecessary trips to the grocery store and save money on groceries.
Another cost-effective cooking tip is to buy ingredients in bulk or when they're on sale. Versatile ingredients like beans, rice, and pasta aren't only affordable but also nutritious, making them perfect for inexpensive meal prep.
With a little effort and smart shopping, you can enjoy tasty and budget-friendly meals every day.
Vegetarian and Vegan Options
Incorporating vegetarian and vegan options into your grocery shopping is easier than you might think. By diversifying your plant-based protein sources, you can create delicious and nutritious meals. Here are three options to consider:
Plant-based protein sources: Try incorporating a variety of legumes such as lentils, chickpeas, and black beans into your diet. These versatile ingredients can be used in salads, stir-fries, and even as the main ingredient in veggie burgers.
Dairy-free alternatives: Replace dairy products with plant-based alternatives like almond milk, coconut yogurt, or cashew cheese. Not only do these options provide essential nutrients, but they also add a creamy and flavorful touch to your meals.
Easy meat substitutes: Explore the world of meat substitutes like tofu, tempeh, and seitan. These products can be marinated and cooked to mimic the taste and texture of meat, making them perfect for stir-fries, sandwiches, and more.
Kid-Friendly Meal Ideas
When it comes to providing nutritious meals for your kids, it's important to explore kid-friendly meal ideas that cater to their tastes and nutritional needs. As a parent, coming up with meals that are both healthy and appealing can be challenging. That's why I've compiled a list of simple and delicious kid-friendly meal ideas that are sure to please even the pickiest eaters. Check out the table below for some inspiration:
Kid-Friendly Dinner: Mini meatball sliders, cheesy chicken quesadillas, pizza muffins.
Healthy Lunch Options: Turkey and cheese roll-ups, veggie wraps, ham and cheese pinwheels.
Easy Breakfast Recipes: Banana pancakes, egg muffins, fruit and yogurt parfaits.
Quick Snack Ideas: Ants on a log, apple slices with peanut butter, yogurt-covered berries.
Budget-Friendly Dinner Options: Spaghetti with meat sauce, tacos with ground beef, bean and cheese burritos.
These meal ideas aren't only delicious but also budget-friendly, making it easier for you to provide nutritious meals for your kids.
Make-Ahead Freezer Meals
Let's talk about the convenience of make-ahead freezer meals.
Busy mornings can be overwhelming, but having make-ahead breakfasts in the freezer can make your life so much easier. Imagine waking up to the delicious aroma of a warm breakfast that only takes a few minutes in the microwave. It's like having your own personal chef!
To keep things organized in your freezer, invest in stackable and labeled freezer meal containers. This way, you can quickly grab the meal you want without any hassle.
And don't forget about some helpful tips and tricks for freezer meals! From prepping ingredients in advance to doubling recipes, these little hacks can save you valuable time and make meal prep a breeze.
Sheet Pan Dinners for Easy Cleanup
Let's talk about the convenience of sheet pan dinners for easy cleanup.
Sheet pan dinners are a game-changer for busy individuals or families who want a tasty meal without spending hours in the kitchen or dealing with a sink full of dirty dishes. You simply toss all your ingredients onto a single sheet pan, pop it in the oven, and let it work its magic. This not only saves time and effort but also means less clean-up afterwards.
Imagine the ease of cooking a delicious meal without the hassle of multiple pots and pans to wash!
Sheet pan dinners offer a wide range of options. You can try chicken and vegetables, or perhaps roasted salmon and potatoes. The possibilities are endless. These quick and delicious meals are perfect for those who want a satisfying dinner with minimal fuss and maximum flavor.
Instant Pot Recipes for Time-Saving Meals
Let's move on to the next time-saving meal option and explore some delicious Instant Pot recipes. These easy recipes will help you whip up quick weeknight meals that are perfect for effortless meal prep.
Here are three dinner ideas that your whole family will love:
Creamy Tuscan Chicken: Cook tender chicken in a creamy sauce with sun-dried tomatoes, spinach, and Parmesan cheese. This comforting and flavorful meal will make you feel right at home.
Beef Stew: Instant Pot makes this classic dish even better. It's filled with tender chunks of beef, potatoes, carrots, and a rich broth, making it the perfect recipe for those chilly nights.
Honey Garlic Chicken: This dish is a crowd-pleaser with its sweet and savory flavors. Cook the chicken to perfection in a sticky honey garlic sauce that will have everyone asking for seconds.
These fast and family-friendly meals aren't only delicious but also save you precious time in the kitchen. So grab your Instant Pot and get cooking!
Low-Carb and Keto-Friendly Options
If you're looking for low-carb and keto-friendly meals, a great option is to incorporate more vegetables and lean protein into your diet. By focusing on these food groups, you can create satisfying and nutritious meals that support your health goals. To help you get started, here are some high-protein alternatives and healthy fat sources that you can include in your low-carb and keto-friendly meals:
High Protein Alternatives:
Chicken breast
Turkey breast
Salmon
Tofu
Healthy Fat Sources:
Avocado
Olive oil
Almonds
Coconut oil
In addition to these meal options, there are also delicious low-carb desserts and satisfying snack options that you can enjoy while following a low-carb or keto diet. To make meal preparation easier, here are some meal prep tips for you:
Plan your meals in advance and create a shopping list.
Cook large batches of protein and vegetables to use throughout the week.
Portion your meals into individual containers for easy grab-and-go options.
With these tips and ideas, you can easily incorporate low-carb and keto-friendly options into your grocery shopping and meal planning routine.
Gluten-Free Meal Ideas
When it comes to meal options that support various dietary needs, let's talk about gluten-free meal ideas. Going gluten-free doesn't mean you have to compromise on taste or variety. Here are three delicious gluten-free options that will make you feel like part of a community that understands and supports your dietary choices:
Gluten-free baking: Indulge in freshly baked goods without worrying about gluten. You can try making gluten-free cookies, muffins, or bread at home using alternative flours like almond or coconut flour.
Gluten-free pasta dishes: Enjoy a comforting bowl of pasta without the gluten. Opt for gluten-free pasta made from rice, quinoa, or lentils, and pair it with your favorite sauce and toppings for a satisfying meal.
Gluten-free dinner ideas: Explore a world of gluten-free dinner options, from flavorful stir-fries with rice or quinoa to hearty stews with gluten-free grains like millet or buckwheat.
With these gluten-free meal ideas, you can savor a wide range of delicious and satisfying dishes that cater to your dietary needs while still feeling a sense of belonging.
International Cuisine Made Easy
Let's explore the world of international cuisine and make it easy for your meal planning. Trying out traditional dishes from different cultures doesn't have to be complicated.
You can enjoy the flavors of Italy with simple pasta dishes or savor the taste of Mexico with easy-to-make tacos. There's a wide variety of quick and delicious recipes available online that cater to your taste buds and time constraints.
From spicy Indian curries to aromatic Thai stir-fries and comforting French stews, you can transport yourself to different corners of the world right at your dinner table.
Salad-Inspired Meals for Fresh and Light Fare
When it comes to salad-inspired meals for fresh and light fare, it's fascinating to explore how different cultures incorporate vibrant vegetables and nutritious ingredients into their culinary traditions. These salads have the ability to bring together a medley of flavors and textures, creating a truly satisfying and refreshing experience.
Let's take a look at three delicious options that will make your taste buds dance with delight:
Fresh fruit salad: There's nothing quite like a colorful salad bursting with juicy berries, sweet melon, and tangy citrus to embrace the flavors of summer. The vibrant colors and natural sweetness will transport you to a tropical paradise.
Grilled vegetable salad: Fire up the grill and toss some vibrant vegetables like zucchini, bell peppers, and eggplant onto the flames. The smoky char adds depth of flavor, while the tender-crisp texture brings a satisfying bite to your salad.
Quinoa bowl salad: Packed with protein, fiber, and a nutty flavor, quinoa is the perfect base for a hearty salad. Top it with an array of fresh veggies, herbs, and a zesty dressing for a wholesome and filling meal.
These salad-inspired meals offer a sense of belonging to a world where freshness and lightness are celebrated. So, grab a fork and join in the joy of these vibrant and nutritious creations.
Creative Leftover Recipes
Leftover meals can be transformed into delicious and satisfying dishes with a little creativity. Say goodbye to boring reheated food and hello to exciting new recipes. Here are three creative ideas to make the most of your leftovers:
Leftover Pizza: Why not try a Pizza Omelette or a Pizza Quesadilla? These quick and easy options will bring new life to your leftover pizza slices. You can also make a Pizza Grilled Cheese for a flavorful twist.
Leftover Pasta: Turn your leftover pasta into a Pasta Frittata or a refreshing Pasta Salad. If you're in the mood for something heartier, try making a Pasta Bake with your leftover noodles.
Leftover Stir Fry and Casserole: Transform your stir fry into a Stir Fry Fried Rice or a tasty Stir Fry Wrap. As for your leftover casserole, you can create a Casserole Quiche or some delicious Casserole Nachos. For a comforting option, make a Casserole Pot Pie.
Leftover Soup: Don't let your leftover soup go to waste. Use it to make a Soup Pasta dish or a comforting Soup Grilled Cheese. And for a fun presentation, serve your soup in a Bread Bowl.
These creative leftover recipes are perfect for those who want to enjoy a satisfying meal while reducing food waste. So get creative in the kitchen and make something delicious out of your leftovers!
Conclusion
With these effortless meal ideas, grocery shopping can become easier and more enjoyable.
Imagine coming home after a long day and effortlessly preparing a delicious one-pot meal like a hearty beef stew. This comforting dish is filled with tender meat and vegetables simmered in a rich broth, providing a satisfying and flavorful experience.
Another option is a fresh and light salad-inspired meal, such as a colorful Mediterranean quinoa salad. This vibrant dish bursts with flavors of tangy feta cheese, crisp cucumbers, and juicy cherry tomatoes, offering a refreshing and nutritious choice.
By incorporating these meal ideas into your cooking routine, you can ensure that you always have a satisfying and stress-free meal on the table.